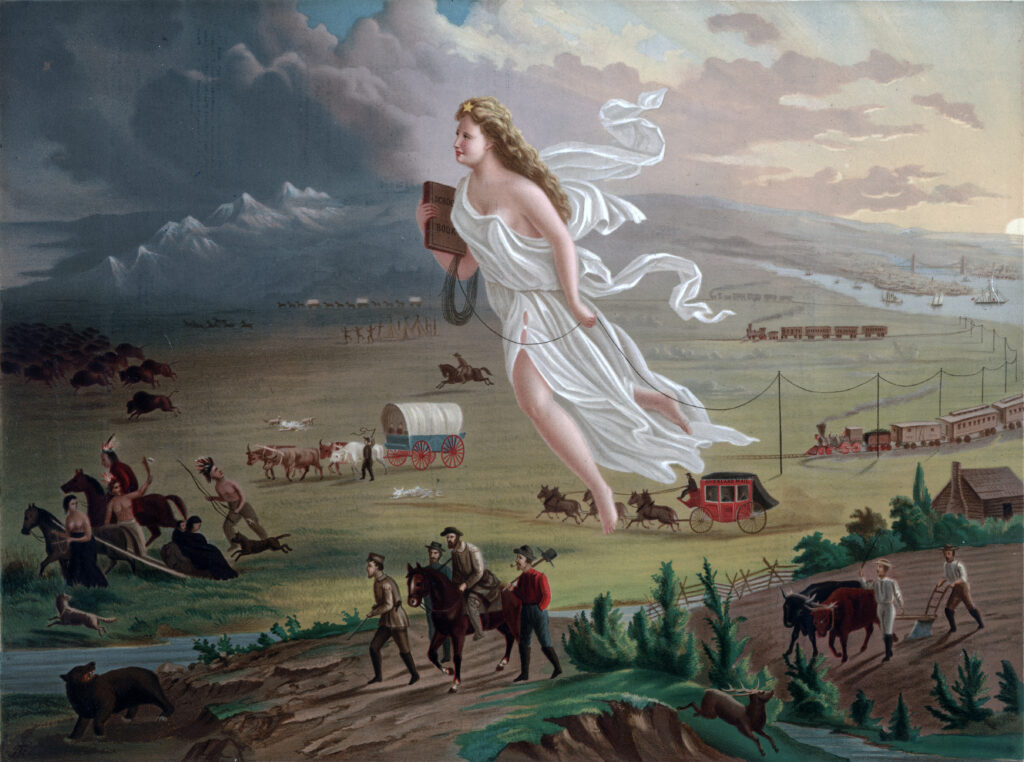 Just as the many paintings and drawings from the past that still exist today—which are most often referred to as 'Old Masters' and are defined as being artworks made before, or around 1800–were also once 'contemporary', during the lives of their creators; the term 'New Media' is also becoming its own version of 'old', fading from vernacular discussions around and about, digital art. The phrase gained ground in the late-twentieth century, and lead universities to establish courses and degrees in 'new media', many of which still exist today. Though just as with the fifteenth century's rise of oil painting, which would lead to new stylistic evolutions for that era's paintings, eventually splintering into distinct genres of iconography—divorced from any prior need to portray pious subjects, which had reached a zenith in the art produced during the Northern Renaissance—so too has the field of 'New Media', had time to mature. What was once new, has now had the time to develop itself into something even newer.
Jon Cates (1973, Iowa) is a Taiwan-based filmmaker, professor, and artist whose work has been widely exhibited throughout North America, Asia, and Europe, who in 2005, coined the term 'Dirty New Media'. The phrase is a by-product of his own research in the New Media field, which—quite similar to lenticular art—is both a structural mode of thinking as well as a medium for creative output encouraging subversiveness. Cates is a tenured professor at the School of the Art Institute, in Chicago, and developed the program of curriculum around the field. As such, he is one of if not the leading theoretical-practitioner working in this area.1 A decade ago he splintered and further developed the term Dirty New Media, to create one of its next iterations, which he's deemed 'Post-Glitch' art. He defines this art as, 'that which approaches glitch critically as an attempt to formulate or offer positions more critical of glitch and/or Glitch Art that cannot be contained so easily inside the always already unstable categories.'2
As with most celebrated, and already decades-long engaged, established digital artists who are working today—such as Jan Robert Leegte and Lorna Mills; the works of such artists were, until at least 2014, as intangible as 'unownable'. The introduction of blockchains, such as Tezos, has forever rendered those two structural situations irrelevant. Glitch art, GIF art, video art, and numerous other iterations of (new) media can now be owned and distributed in ways that have required a reconsideration of the manner these medias, and the artists working in them, are woven into the cultural-lexicon.3 Traditional art museums at the end of the 2000s, and during the early-2010s—and especially those focused on caring for collections of Old Master paintings—were slow to embrace new technologies to leverage their centuries-old treasures on the part of their visitors' experiences. Though by the late-2010s, it soon became increasingly clear that iPhones, social media, and QR-codes—to name but a few innovations now leveraged by legacy art-cultural institutions—were not a choice but instead a necessity.
Cates and I recently spoke about his involvement with AI in the production of his work on the Ethereum and Tezos chains. As an artist and curator, he's aware of how both new media artworks are created and curated, as well as—rather importantly—the effects that their distribution and exhibition mediums can have on the part of those viewing, or collecting, them. We spoke about how he found his way to his many interests in new media; the development of it over the past few decades; how blockchains have changed ways art is perceived among society at large; and then dive deep into his use of AI, prompts, and glitch.
Could you discuss how you ended up interested, working in, and academically progressing, numerous ways of examining new media in a theoretical way? Where did your interest in digital mediums derive from?
I have always been excited by New Media and the potential of 'the digital'; especially in combinations with or during transitions from analog to digital, because these were exciting aspects of my creative life while growing up. In the early years of personal computing, home computers were positioned as places where creative practices combined art, games, and music—which all coexisted in these new, in-house computers. I learned how to work with and use computers in elementary school; programming in DOS and all that. Then we got our first home computer: the beautiful Commodore64 (1982), which I still love. Years later, when I went to study at undergraduate school, widely available Internet was new. So we're talking, time-wise, around 1992.
As I've mentioned before when discussing my work; I was born during the Late Analog Era, though I am also of and from the Internet, because I felt very connected to these new techno-social developments. Internet quickly unfolded as I was in my 20s. During these formidable times, I learned to work creatively with these new network technologies, scripting, and coding languages and all that. I was being educated and pulled into, what's become termed 'Contemporary Art'. One of the life-altering lessons that I learned at university was the notion of 'dematerialization of the art object'. I learned that the entire trajectory of Conceptual Art—as part of the discourses of Media Art—was roughly the same age that I was when placed in time. I think that I personally identified with Conceptual Art.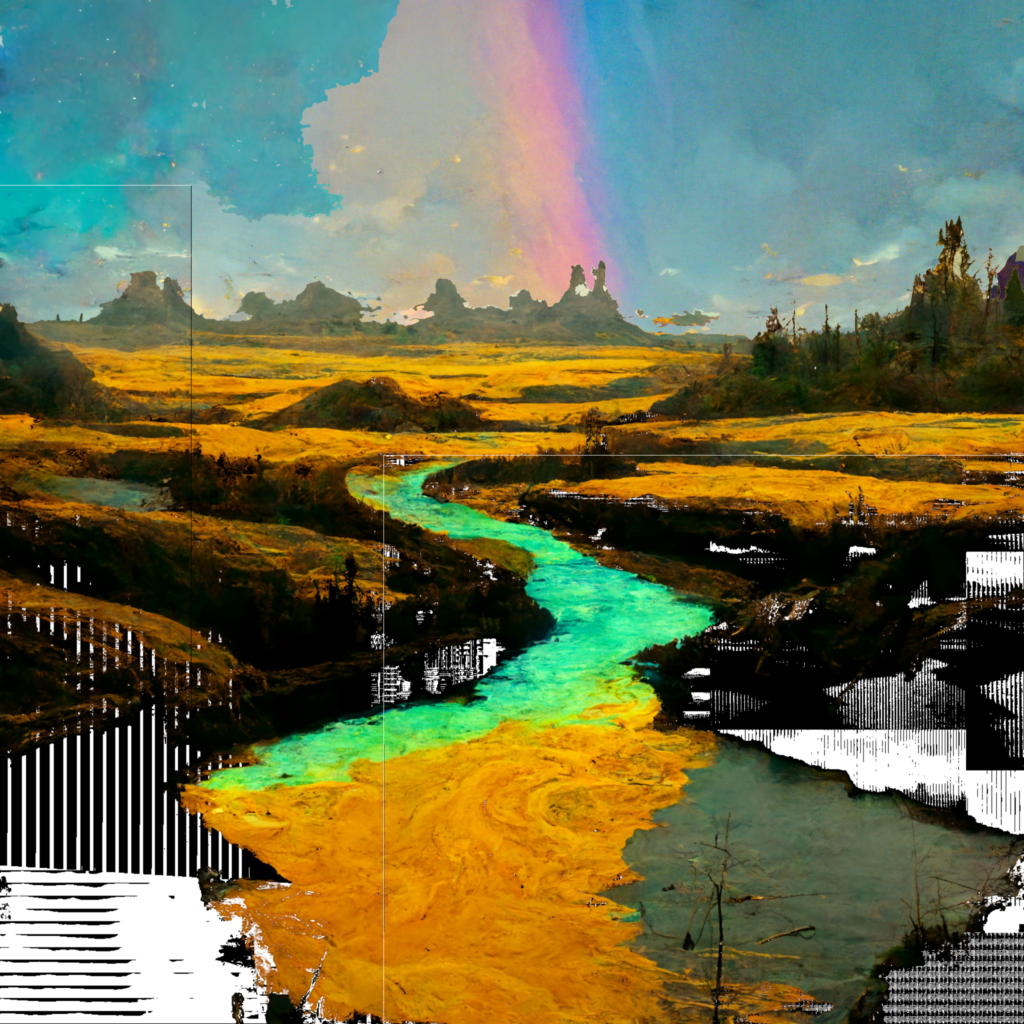 I immediately understood that conceptual, theoretical, and performative approaches to computers—specifically digital media—was not only possible, but also part of the material itself. Eventually I went to graduate school to focus on Media Art Histories. In Austria, I became one of the first students in the first class of Oliver Grau's MediaArtHistories program (in 2006). When I completed my masters, I was also technically the first graduate of that same program. Grau contextualizes 'New Media Art' in the twenty-first century by explaining the direct connections to and around, the turn of the prior century, and he details how Magic Lanterns, Phantasmagoria, and Cinema (for instance) anticipated New Media. He had inspired me before I went to study with him; and so being there with him, studying in Austria, defining the entire program and my experience in it, was amazing.
On a more personal note, our home was always full of music. My father was a jazz musician and an instrumental band teacher. When I was a kid I loved Parliament Funkadelic and Kraftwerk. When I was a teenager, I loved Sex Pistols and Chuck Berry. I was always most engaged by the tensions in these kinds of combinations; conflicts between innovations and origins. I was raised, in a way, you could say, to be skeptical. My skepticism refined (through education and academia) to become a form of criticality. Informed by histories, I stay very much engaged in the present moment, viewing new opportunities as expressions of deeper desires, much like the movements of various forms of music.
Colonialism as a debate in academic art historical circles came to the forefront around 2016, but it had always been simmering in the background… Could you explain… beyond the 'colonizing-oppressor' narrative, of the American 'wild west'… or actually, perhaps elaborate on it here; and beyond your childhood memories, your reasons for incorporating western motifs into your artwork? And why stick with this subject as an undercurrent? Are its general themes more abstract in such a way that the narrative of manifest destiny can be utilized as a general commentary, etc.?
The American Wild West is endlessly fascinating. Navarre Scott Momaday, the Pulitzer Prize-winning Indigenous author from the Kiowa Nation, says that 'The West', "is a dream". He goes on to explain that: "It is what people who have come here from the beginning of time have dreamed. It's a dream landscape. To the Native American, it's full of sacred realities, and powerful things. It's a landscape that has to be seen to be believed. And as I say on occasion, it may have to be believed in order to be seen."4 I was born by the Mississippi River, in the American Heartland, or as I call it, the Mid-Wastelands. So, for me The West as an idea embedded in the American mind has always been a dream; an American dream, as they say. My travels out in 'The West' have been transformative, on so many levels. Likewise, the furthest West that one can go in that direction is California, an equally dream-like state.5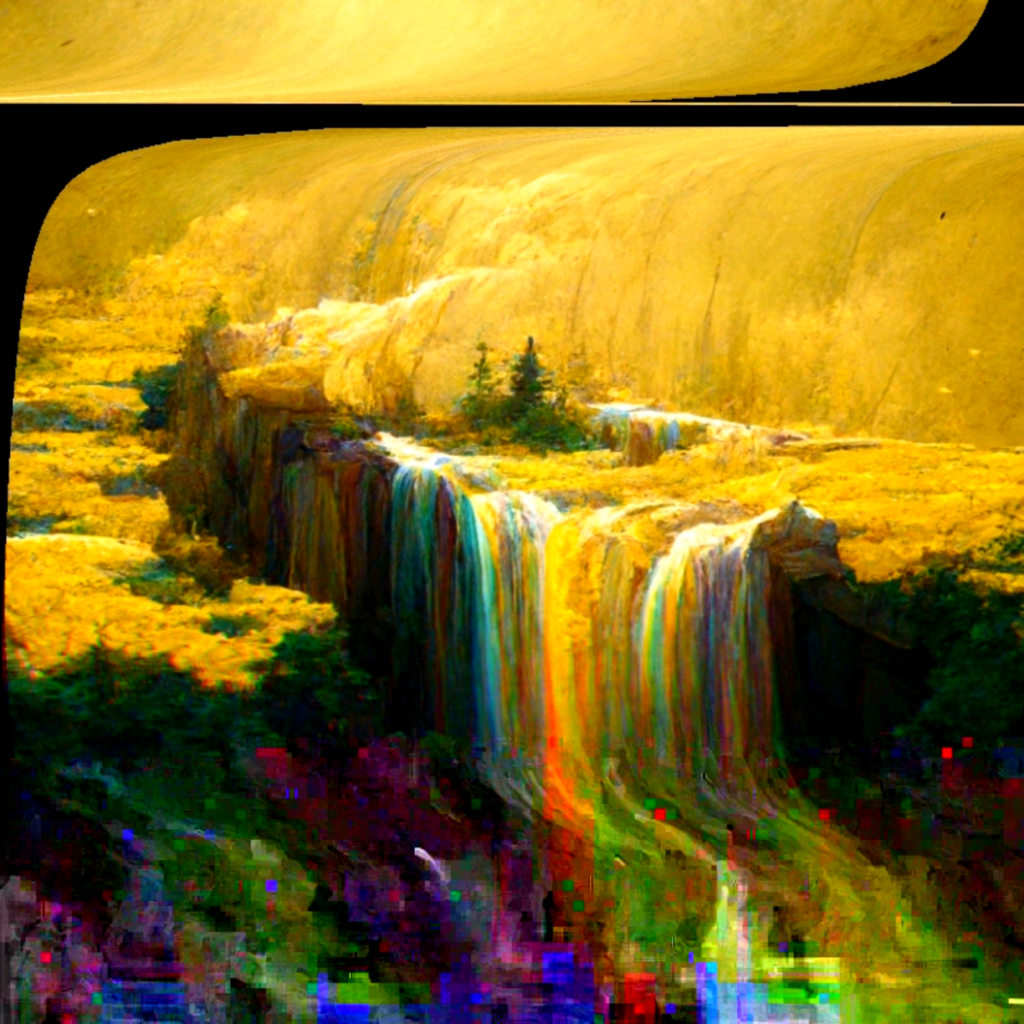 The dream of Francisco López took place in a part of México now called the United States… during the spring of 1842. Under an oak tree in the afternoon California sun, mineralogist López dreamt of gold. The story goes that he had a golden dream, floating in a river of gold. When he awoke, he dug up wild onions and found gold clinging to their roots, 'discovering' the gold that California would become famous for. Not far outside the place people today call Los Angeles, the site of his dream discovery is now known as Placerita Canyon. The tree is now named 'The Oak of the Golden Dream'; the canyon in which López's literal dreams of gold came true later became a Hollywood set for cinema productions, of Western films.
Coming full circle: concurrently, from 1800s to the present, California has always been a place where people stage and enact their dreams. Californian ideologies of technological 'frontiers' are visualized, simulated, and made real in that place. The creation of cinema, computers, and technology writ large trace these efforts over the centuries. All of these arduous projects take place on the stolen lands where genocides occur, across contentious borders which are still very much fraught with hopes and violence. Silicon Valley is further North, more up the California coastline, from 'The Oak of the Golden Dream', which is rather far from Hollywood's magical spells; though, it's still very close at heart to the fantasies of manifest destiny, which are now also totally technologized and encoded into our conceptualizations of 'California', out on the Western edge of United States.
So, yes, to answer your question; is the Western notion generally or thematically abstract enough, "in such a way that the narrative of manifest destiny can be utilized as a general commentary?" Then the answer is definitely: yes. To put it simply: we cannot 'discover' or 'invent' the already existing. We cannot 'discover' people and/or places that themselves have thousands of years of histories. We can explore ourselves, in modes of expansive self-discovery. Artists seek to do this every day. My new adventures in the AI Glitch Western are my own journey which I go on, while I expressly state my opposition to the 'Doctrine of Discovery'.
Prior to the concept of Manifest Destiny, decrees made by the Vatican are now understood to have formed the basis for the Doctrine of Discovery. These decrees codified Catholic justifications for genocide, enslavement, theft, resource extraction, settler colonialism imperialism, international criminal corporate enterprises, etc. Pope Nicholas V (1397-1455) issued the Dum Diversas (1452) and the Romanus Pontifex (1455), to encode the violence that I've listed above to establish what became the Doctrine of Discovery. And this ideology created religious rationalization and financial relations for the Vatican and the European monarchies for their imperialist ambitions from the mid-1400s onward. This collaboration between the Vatican and the European states in the 1400s also set into motion the creation of corporations as we know them today, which began to take shape in the late-sixteenth century. Corporations and financial institutions were, partially, formed as business ventures to execute and profit from imperialism.
More generally, the Doctrine of Discovery then began to define any form of 'discovery,' as being justified (genocidal) violence (including enslavement alongside profound resource extraction, to the point of environmental collapse). These Catholic laws also set the stage for more broadly defined and ambiguously applied 'Christian' biblical explanations for, for instance: settler colonial imperialism, American Exceptionalism, borders, wars, the frontier; that sort of notion and all its ideas.6 As an active Catholic myself, and as someone who was born into and has certainly benefited from European colonialism, I also often reflect on this—always, actually—to take responsibility and to seek to be truthful in my contrition.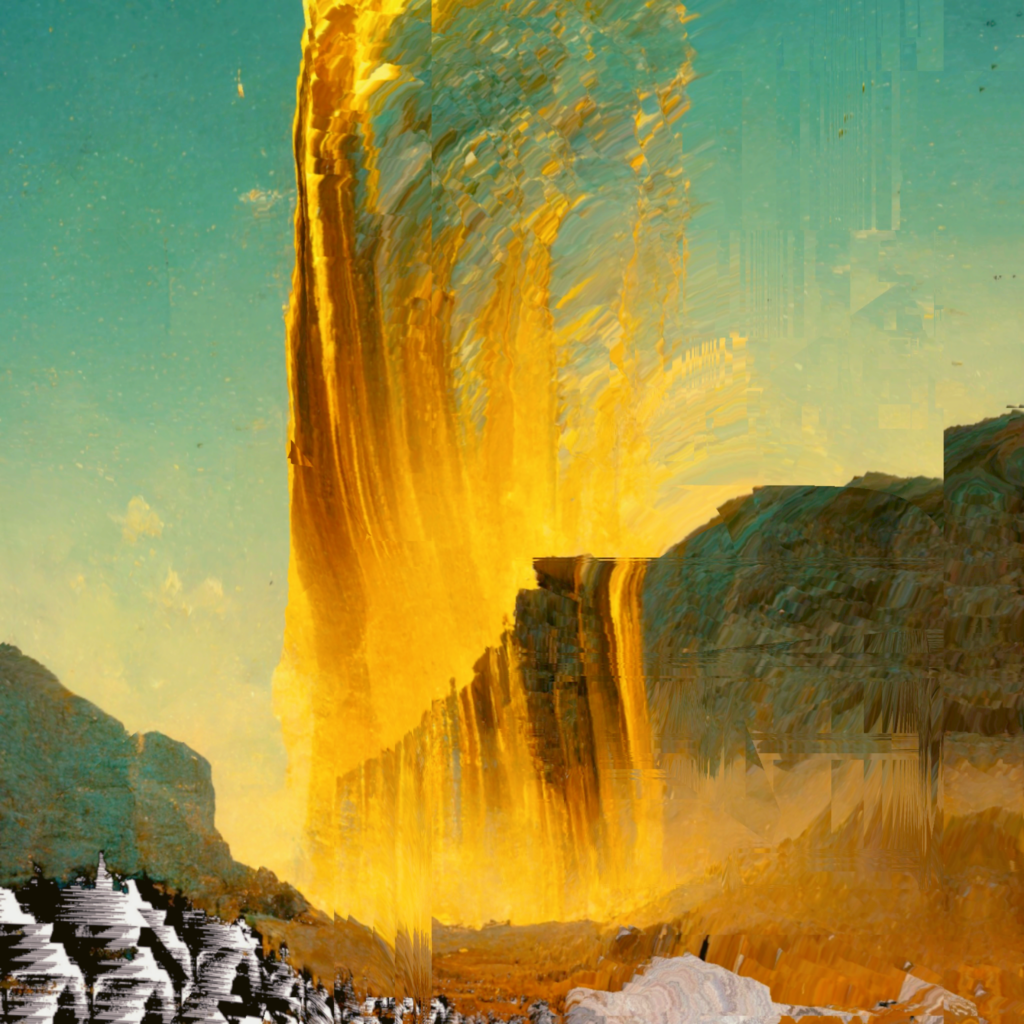 How long have you been using AI within your work, and what does it offer or add to your production methods that were otherwise not possible, before your currently used machine learning (ML) platforms were open for use?
During the summer of 2022, I dove deeply into these waters, though I had been aware of and followed developments in AI and ML since the late-1990s. I have generated texts with Markov Chains and experimented with programming bots—and I have had students who pursued these approaches, especially with DeepDream (around 2015). Still, however, as an artist, I didn't imagine I would engage so deeply with these systems before now. The rate of their development since this past summer is accelerating so quickly. I could foresee that this acceleration would happen, so I got in on waitlists and joined their betas as fast as I possibly could. I'm sure that we'll experience the exponential increase of AI and ML into all forms of media production. it's important for my work that I be involved at this stage, stay informed, keep experimenting, and participate fully as we transition into the later phases—which will more directly shape game development, cinema, music, etc.
Could you speak about the different platforms you use, and your person views on the business incentive behind these platforms on the part of allowing them to be 'openly' used by the general public?
Currently I use Midourney, StableDiffusion, and DALL·E. I use multiple platforms and I'm agnostic; technologies are not now nor ever, neutral; all techno-social systems have their own inflections, specificities, limits, glitches, etc. New technologies, beget new glitches. As a Glitch Artist I'm excited by all of these situations in which we encounter surprises. I define Glitch Art as, 'The Art of Surprise'.
The AI work I've done that I call 'Glitch Western', and my 金山 (goldMountain) project deeply integrate AI, which is more accurately ML. To date my work is very rarely direct outputs. My 75 or so 'Glitch Western Ghosts', over on Ethereum and viewable on OpenSea is one of the only examples of me minting direct outputs to date. I do love direct outputs but I also want to glitch and tinker with them. Glitch Art is what I achieve when I use my own techniques (of what I referring to as postproduction, although I simply consider my glitching, composting, and all that to be production [rather than postproduction]). Another aspect is that by doing all of this work—glitching—myself, I am pushing the outputs in new directions, and bending the outputs towards the goals that I have as an artist to tell the stories that I am creating within my work.
In other words, what I do is take the outputs of the AI and ML systems and work with these materials, much in the same way I would do with footage that I've shot with analog cameras or created with any other raw materials. And by doing this, I am also ensuring that my work is my own, and that when collectors collect my work, they can be confident that it is mine.
What is your view and personal standpoint on prompts in relation to AI?
Machine learning systems (Midjourney, Stablediffusion, DALL·E, etc.) all have their own nonhuman goals that they are all working towards behind the scenes, and in some cases these goals are embedded/imbued in these computational structures by humans who develop them, for business goals. I sense that one such business goal—which has alignment between human, corporate, and nonhuman agents—is photorealistic renderings of people. Photorealism is interesting but not always the most exciting outcome; also, Media Art Histories are checkered with these kinds of goals, which progress and thus move and redefine our definitions of "realism". When these ML systems render people, we often detect the glitches quickly, because humans are pattern-seeking mammals who are literally looking for other humans out in the world. So that's all exciting—and intersects with glitch.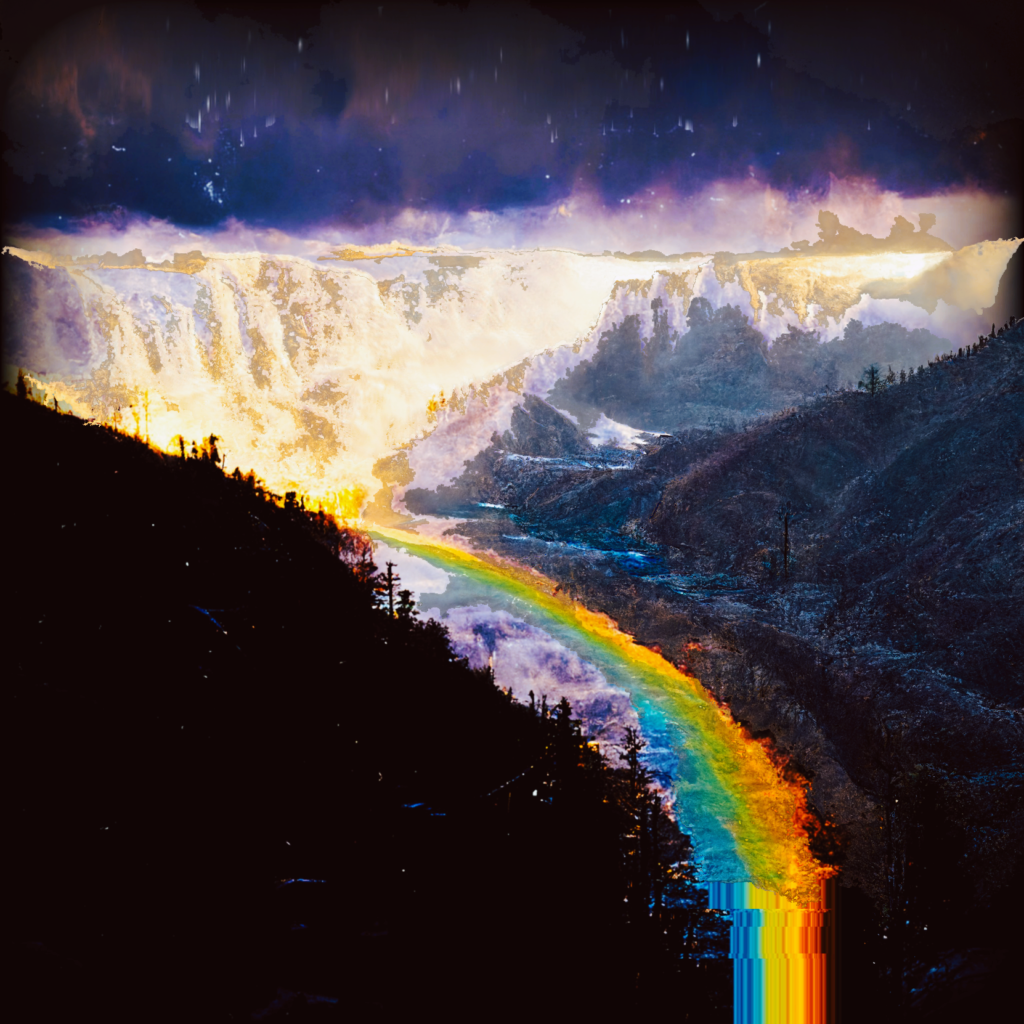 Prompts are part of the artistic process for me, a necessary step in the creation of AI art. However, the prompts themselves are not of primary importance to me outside of my own artistic process. I can imagine Conceptual Art approaches, which would foreground the text of prompts as the art, but that is not what I am doing in my work. I respect those who do and appreciate that approach, but it is not mine. My development of specific phrases and such that garner the results I am looking to work with, is a rather slow process. On the one hand, I am always refining those—so I do play those cards rather close to my chest. On the other hand, I am also aware that the corporations selling me access to these tools are also claiming all prompts entered into their systems as their own intellectual properties. So, I'm disinclined and therefore, also disincentivized to make too much of a fuss of the prompts themselves, as the prompts are already owned (for the most part, I believe) by the companies who are developing these systems.
So, would you say that you're secretive with prompts?
I'm not exactly secretive, because many of the platforms permit the other users of the platforms to view my prompts. Also, prompts entered into these systems become the intellectual property of the corporations (such as Midjourney), who offer the services. So one can't be too attached. Still, it takes slow and often grinding work to refine prompts into the golden keys that can unlock results people are looking for. When I make requests of these systems, I sometimes ask them very obvious and open ended questions. Examples include my use of the phrase 'Glitch Western'. I initially started experimenting with this phrase when I first got into these platforms, and it would be an obvious choice to anyone remotely familiar with my work; as 'Glitch Western' is the genre I proposed and developed. Sometimes I combine this obvious phrase with simple terms (nouns, verbs, adjectives, etc.). One example of a request that returns beautiful results is just 'Glitch Western Lullabies'. I love that one. If you do that one, you'll see results that can you lead you toward my work.
In what ways does your academic background inform your work? Do you consciously work toward creating new derivatives within the new media mediums, or is this a byproduct of your own interests and lack of categorization for what your work has evolved into?
Many artists have an image, or a type of image associated with them. I have ideas. My ideas usually come in the shape of genres. Creating genres enables me to be expansive. I can stretch out and tell stories of characters and archetypes within frameworks. I can also bend and break the frames to fit the work. Prior to Glitch Art being well-known and thus widely accepted, I proposed a genre called Dirty New Media (2005). My idea of Dirty New Media allowed me to create and curate art that would now be called Glitch Art, but which was not yet established. I brought people together with these ideas, making art, exhibitions, festivals, and more. And, more recently, my concept of the 'Glitch Western' is similar to that idea, in the sense that it's the kind of art that I both, A: want to make, and B: want to exist in the world.
Lastly, where does your love of glitch derive from, and why have you remained engaged with it throughout the course of your career, until now?
What a beautiful question! Perhaps it's because, the unstable art—now known as Glitch Art—is always changing and full of surprises!