Purchased in 1909 by Charles (1843-1929) and Anna (1852-1931) Taft of Cincinnati, Ohio, from the New York-based art dealer Scott & Fowles, the pendants (figs. 1-2) by Frans Hals (1582/3-1688),1 which once formed part of their art collection were–together with their home–were bequeathed to the city of Cincinnati, in 1931.2 With it, they established the Taft Museum of Art, 'one of the finest small art museums in America'; the pendants form two works in the, now, 'fixed' collection of the museum. Anna's father, David, had left to her a substantial inheritance in 1891, which allowed Charles and Anna to begin collecting art, in 1902. First, they acquired applied-decorative arts, and later European Old Masters, along with the then-contemporary, fashionable Hague and Barbizon schools; 'Fauvism, Cubism, and Surrealism… were never acknowledged by these Ohio patricians.'3 Their pedants by Hals were, in 1909, exhibited in New York at gallery Scott & Fowles, prior to their acquisition by the Tafts. The German art historian Wilhelm von Bode (1845–1929) had visited Scott & Fowles in 1908, and he later wrote to the gallery from Berlin, 'I have to thank you for the great pleasure you made me by showing me the two marvelous portraits by Fran[s] Hals. There are only very few pictures by the master of such a high quality and so wonderful preservation.'4 Bode commended the couple's acquisition of pendants by Hals, which were some of the first purchased by American collectors in the Midwest.5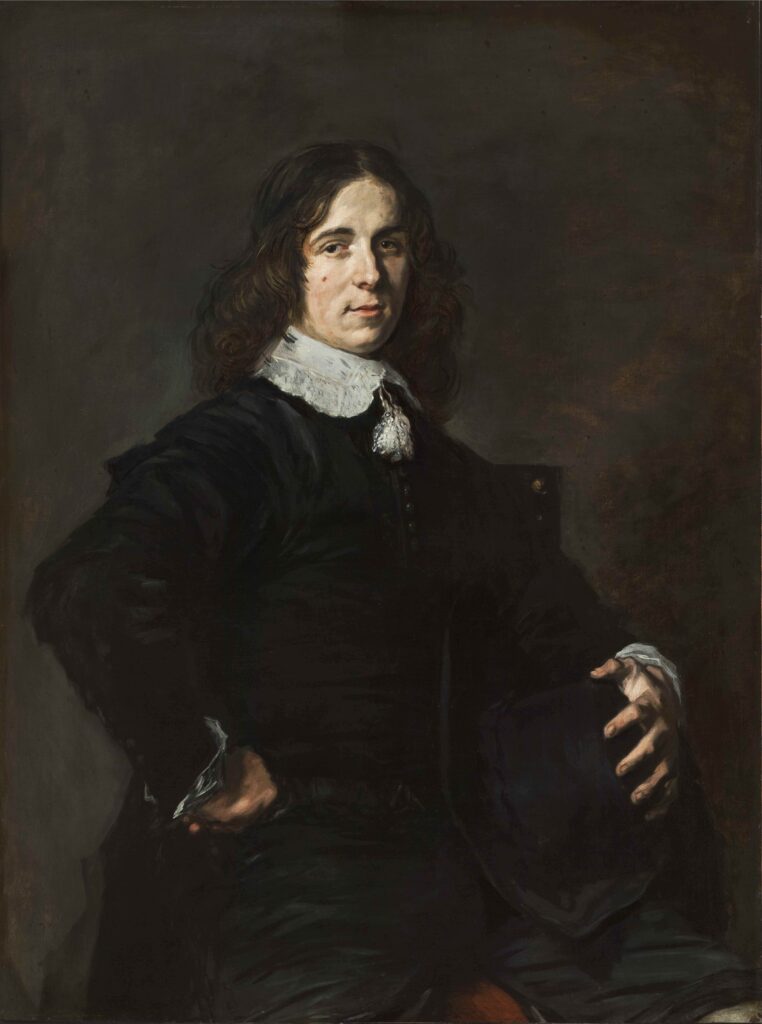 Two similar pendants by Haarlem painter Johannes Cornelisz Verspronck (1600/3-1662) were in 2008 acquired by the Rijksmuseum from a private collection;6 the 1652 Portrait of Eduard Wallis and the 1652 Portrait of Maria van Strijp, both of which remain in their original frames. This is a rarity with seventeenth century paintings. These painters were contemporaries, and are considered the two greatest portraitists active in Haarlem during their lifetimes; Hals' style loose, Verspronck's smooth. For these reasons, their portraiture is often contrasted, stylistically.7 Impressionist painters, and their critics, once active in Paris, admired Hals' bold slashing brushwork and the vitality of it.8 Hals' portraiture is formally appreciated, whereas Verspronck's is not. But beyond loose and smooth, virtuous and not, regarding their final finishing; what defines their distinct oeuvres? Why has Verspronck's portraiture not achieved the same value as Hals'? How do their two painting methods differentiate? And can those methods be illustrated by contrasting these pendants, alongside the historiography of their receptions by connoisseurs, restorers, curators, and journalists? If so, what do their writings convey about their valuation, and their creators, during the twentieth century?
The Verspronck pendants were first exhibited and published, in 1952, in Amsterdam, on occasion of the exhibition 'Three Centuries of Portraits in the Netherlands: 1500-1800'.9 On loan since then, they were acquired and restored by the Rijksmuseum in 2008.10 While Hals imbued his sitters with an illusion of movement, through rapidly executed brushwork, readily seen and appreciated,11 Verspronck imbued his sitters with an illusion of liveliness, at the expense of movement, through modesty and refinement of his brushwork.12 Hals' portraits are easily viewed, while appreciation of Verspronck's refined portraiture entails repeated viewing, and knowledge of his fluid underdrawings, compared to none, known to be used by Hals.13 And Verspronck's underdrawings remain invisible to the naked-eye, without the aid of infrared-reflectography.14 Hals connoisseur Seymour Slive has suggested Verspronck adopted positions of Hals' sitters.15 And Rudy Ekkart, a Dutch art scholar, has noted that, 'After about 1650 Verspronck represents his models mostly in a sitting position, the arm of the chair playing an important part in the compositional arrangement.'16 Thus Hals and Verspronck seem to have known one another's work. And it's thought that Verspronck, after training with his father, Cornelis Engelsz (1575–1650), may have been a pupil of Hals; yet this remains unknown and have never been proven17
Verspronck and Hals shared profession and city, both painted singular and group portraiture, though differed in lifestyle and painting methods. Hals was pensioned by Haarlem, late in life;18 Verspronck was wealthy, by inheritance.19 Of the 1979 Verspronck exhibition, John Sillevas remarked, 'Some artists, whatever their qualities may be, will forever be linked with contemporaries of great fame; their names will mostly be mentioned in comparisons and only rarely will they be considered masters in their own right.'20 This essay considers apparent that Verspronck is a master painter and seeks to show that while nearly always received in comparison to portraiture by Hals, Verspronck is an esteemed painter in his own right, who has been overshadowed by other seventeenth-century Haarlem painters, and that his ingenuity must be sought in his many details. Though without the knowledge of where to literally look for those details, this same ingenuity is readily lost to the casual viewer, as a Midwestern museum visitor.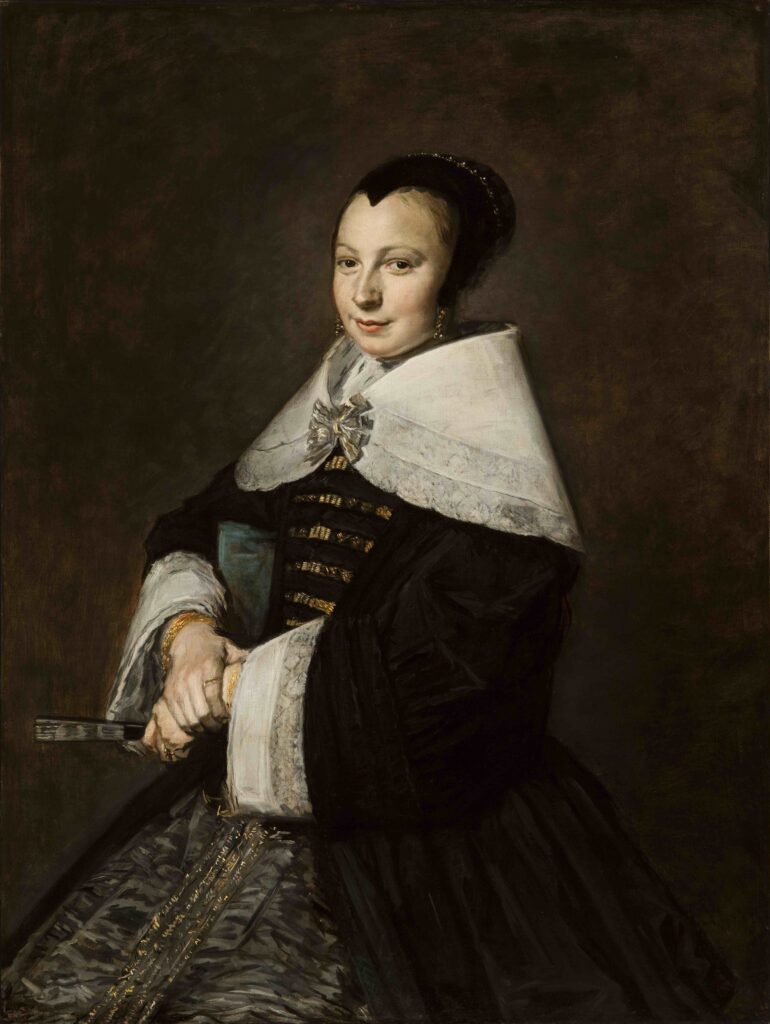 Frans Hals' c. 1648-1650, Taft Museum Pendants
'While Hals' biggest strength is owed to his generous way of painting, where the details are suggested rather than worked out, Verspronck's paintings are characterized by precise painting and a strong detailing.'21 That characterization of these two painters is evident in Hals' c. 1648-1650 Portrait of a Seated Man Holding a Hat (fig. 1). It is on a canvas, and shows a strapping young man seated on a chair, slightly turned to his right, his right arm akimbo, as his left hand holds his hat, which is foreshortened, against his stomach, just above his waist. Hals' trademark black brushwork can be seen in the pant legs and contours of the man's costume. He wears a belt–though his hat obscures most of his torso–and a flat white collar, with two white tassels hanging from it, in accordance with the costuming of the period.22 Five buttons are below his tassels, and to his left is the back of the chair; its brass tuffets are visible. His hair is loose and flowing, though has been retouched. It's possible to see the canvas's weave in some sections of the background, due to prior overcleaning. Compared to Verspronck's portraits, Hals didn't emphasize figural contours by way of a second background layer. Instead, Hals set his contours in a sitter's final sitting. There is no distinction between the man's contour and the background, as is seen along the left edge of his hair. The right background corner is hazy, due to smokey varnish, which obscures the vibrancy of colors. His hat is visible, his hand atop it, yet it is also difficult to discern without a raking light due to the fading of paint.
The man's contours seem to have been set last, as Hals is known to have done,23 and there is an overlap between the figural contour and background; thus, there is no 'second silhouette' around Hals' figures, as there are in Verspronck's. There is also not a consistent gradation from dark to light in diagonal form, from the top left of the canvas to its bottom right corner, as evident in Verspronck's pendants. This man's hair seems to flow naturally, with its loose curls. Evidence of the portrait's abraded condition is present at its bottom left edge, at the red of the chair, whereon two brass tuffets are visible. Horizontal black brushstrokes define the man's torso, as well as the folds within his pants. His face is mostly in shadow on its right side, and there is a mole on his right cheek. Today both he and, presumably his wife, remain unidentified. His face, as opposed to that of Eduard, is splotchy in its modeling,24 much darker, has more contrast of shadows, though no green deadcoloring or underlayer, as Hals is known to have used for modeling. The right edge of his cheek meets his collar cleverly, so that it seems to melt into it. His lips are pursed; eyes staid. He gazes toward the viewer, and not his wife.
In 1937 the Hals pendants were exhibited in New York, at the Schaeffer Galleries, after being on view at the Frans Hals Museum.25 Alfred Frankfurter, former editor of Art News, reviewed the 1937 New York exhibition, and Tafts' Hals pendants:
'What the Schaeffer Galleries are doing this month in exhibiting the American loans to last summer's Frans Hals Exhibition in Haarlem before the paintings are redistributed to their owners is so logical and intelligent that one wonders why nobody has ever thought of it before in the case of these great international exhibitions which always draw upon American collections for a generous part of the whole, yet which generally exist for the exclusive benefit of Europeans… Another feature of the New York show is the prominence it gives to two masterpieces of the later period of the master, the Young Man and Young Woman from the Taft Museum in Cincinnati, which, so far as I know, have never been shown in New York before.'26
Here, Frankfurter was incorrect, as the pendants had been previously exhibited in New York, in 1909, and in 1919, both at Scott & Folwes. William Walton reviewed that 1919 exhibition, which consisted of works from the collection of the Tafts, including these two Hals pendants.
'That good fortune which sometimes presides over the collection of paintings has here brought together what might be described as an epitome of the master's best in sentiment and in technique… In the Young Man of Haarlem,27 the famous bravura brushwork leads itself to something like delicacy and charm; the sitter's dark eyes look at the spectator meditatively, his long hair, parted in the middle, falls on white linen collar; the right hand is doubled on the hip, without the left he presses a broad-leaved black hat against his black doublet. Nothing is known of the name of the sitter, nor is the date recorded.'28
Hals' c. 1648 Portrait of a Woman Holding a Fan is on a canvas, and shows a woman sitting at a chair (fig. 2). She wears a black dress, the middle-lower portion of which contains Hals' dashing brushwork.29 A conservation report from 1987 states: 'There are many more holes in the original canvas of the Young Man than in that of the Young Woman. Two areas of the paint film of the Young Woman have been blistered and wrinkled by the heat and moisture of the lining process.'30 This portrait of Hals' pendants, is in better condition. The unidentified woman is seated in a turquoise chair, with her right arm draped over it. Her right arm is akimbo, though not toward the viewer. Her right arm also clasps her left wrist, as her left hand holds a fan. Her composition is similar to that Verspronck used for Maria van Strijp (fig. 4). The collar of Hals' woman is flat, not starched and folded, in accordance with the era; it is edged with lace, while a brooch and bow fasten it. The woman wears a black high-waisted bodice, with matching stomacher, and billowing three-quarter length sleeves, at the edges of which are revealed her white chemise, which is transparent at her sleeve's ends, and closer to her, translucent. Her chemise's lace-like patterning is also present within her collar. While lines of white and gold paint represent horizontal stripes of gilding on her stomacher. She wears a ring on her right index finger, a gold bracelet on her right arm, and two rings on her right fingers, only three of which are visible. Down the middle of her dress runs fours lines of black, highlighted by white and yellow, representing the gilding of her dress. Hals' bravura brushwork is evident in the dress, consisting of dashes of mainly greens and yellows, with frenetic lines of black laid atop those yellows and greens; some horizontal, most diagonal.
In 1937 Hals' pendants were referred to as, 'belonging to the best works from Frans Hals.'31 After returning to Cincinnati, they were sent to New York in 1949 for restoration by M. Knoedler & Co, where they were, 'cleaned, [had] retouches removed, restored, and revarnished… [and received] new pinpointing.'32 Though no treatment report of the work performed by Knoedler in New York, in the 1930s or 1940s, was ever provided to the Taft; only that brief conservation report is known. Another Hals exhibition occurred at the Frans Hals Museum in 1962–organized for the museum in the USA, by Seymour Slive–in which the Hals pendants were included. The Intermuseum Laboratory in 1962, 'reformed the existing varnish on Portrait of a Seated Man and applied two additional varnishes in preparation for [that] exhibition.' They also discerned during that restoration that, 'the paint film has a flattened appearance due to glue lining process,' and that additionally, 'there are numerous holes in the original canvas and a one square inch hole in the upper right corner,'33 which were later filled and inpainted. At that time–the 1960s–while worn in condition, these Hals pendants were thought to be in a distinguished state.
However, adjacent to the woman's right hand, background abrasion and original canvas can be discerned with the naked eye. Her left sleeve reveals Hals' trademark blacks, and employs the ground base layer of the painting. On her left elbow, Hals' brushstrokes are horizontal, to emphasize the position of costuming near her left hand. Otherwise, it would not be able to be seen, that her left hand is pulled toward her, to the right. Undercoloring of her dress must use the ground, over which grays and greens were painted. She wears earrings with pearls. Her lips are pursed, just as her husband's, as she looks out staidly to the viewer, instead of toward him. Her hair is pulled back; she wears a diadem with pearls, just as Maria van Strip. Along her counter, though most evident around her head, and the upper right background, is the same smokiness that's evident in the background of her pendant (fig. 1). Her contour follows her dress to the bottom right-hand corner of the painting, which shows evidence of plentiful craquelure. Here the canvas can be seen, most clearly at the right of her collar. There is also underpainting in her contour's form, which Hals would have first laid in broad initial strokes, defining contours in the third and final of his sitter's sittings.34 Her neck, as her husband's, seems to dissolve into the background.

In the 1995 Taft catalogue of its European and American paintings, Walter Liedtke, a late Dutch art scholar and curator at the Metropolitan Museum in New York, noted that the pendants have a 'seriously worn condition'.35 It is the first such instance that notes the pendants as having conservation issues. When these pendants were loaned to yet another solo Hals exhibition, this time in Haarlem, London, and Washington, during 1989-1990, they were first sent to the Metropolitan in New York, where they were reviewed concerning their conservation status:
'The [1987 Intermuseum Laboratory] reports gave the impression that very little was wrong with the condition of these works of art. To our great dismay we discovered that the synthetic varnish added by [Intermuseum Laboratory] in 1962 had turned grey and semi-opaque and was hiding severe overcleaning in the past and extensive repainting on both pendants. This is a very frequent condition of Frans Hals' paintings as his paint is extremely fragile and easily abraded. When we removed this additional varnish, it became apparent that little original was left in the backgrounds and the repainting is vast and discolored. Other repainted areas are the black garment, the hair of the male sitter and some of the details in the white cuffs, colors, and flesh tones… Considering this unfortunate situation and the shortness of time remaining before the scheduled exhibition, we decided to leave well enough alone and do only minor adjustments of the varnish and discolorations.'36
Before this 1989 retouching, on the occasion of the Frans Hals exhibition, and before that of 1962, the Hals pendants 'were last cleaned… by M. Knoedler & Co. in 1949.'37 The Intermuseum Laboratory reported in 1987, that the pendants were lined in the 1920s or 1930s, when repainting was also done, though, as was noted, no documentation of that process exists. An exhibition catalogue from 1947 notes of the pendants: 'Air seems to vibrate over the figures, and a soft, enamel-like sheen emanates from their black and white garments.'38 That sheen, it is now known, was and partially still is, a build of discolored varnish. The Hals pendants were again loaned for exhibition, to the Seattle Art Museum in 2001-2003, and conservation reports from that time confirm solvent abrasion has turned the varnish of both pendants, smokey and gray.39 Today, the varnish of these pendants, remains in that same state, obscuring the vibrancy of their colors. These pendants are in much need of a thorough restoration; this is unclear to museum visitors. The last time they left Cincinnati, was in 2018, when they traveled to Toledo, Ohio, to be part of the 2018 exhibition 'Frans Hals Portraits: A Family Reunion'; they did not travel to its second and third locations of Brussels and Paris.40
Johannes Cornelisz Verspronck's 1652, Rijksmuseum Pendants
Verspronck's pendants have hung in the Rijksmuseum since the 1952 portrait exhibition. Ekkart concluded of his portraiture, in his 1979 catalogue raisonné: 'Meticulous detailing is one of Verspronck's most typical qualities and partly determines the character of his work.'41 He, as Ekkart also noted, 'borrowed certain poses for his portraits from Hals, and adapted these in a clearly personal manner, giving his portraits a very different impact.'42 Ekkart has also referred to the Rijksmuseum's Verspronck pendants as two, 'very large panels that have finely worked out details and are better than most of the artist's other works from this period, especially in the rendering of the hands.'43 Writing of the pendants in 2009, Ekkart bestowed them as, 'the most beautiful set of pendants from the late work of Verspronck.'44 Which is, perhaps, due to their pristine condition, owed to their having been in a same private family collection, since their creation in 1652.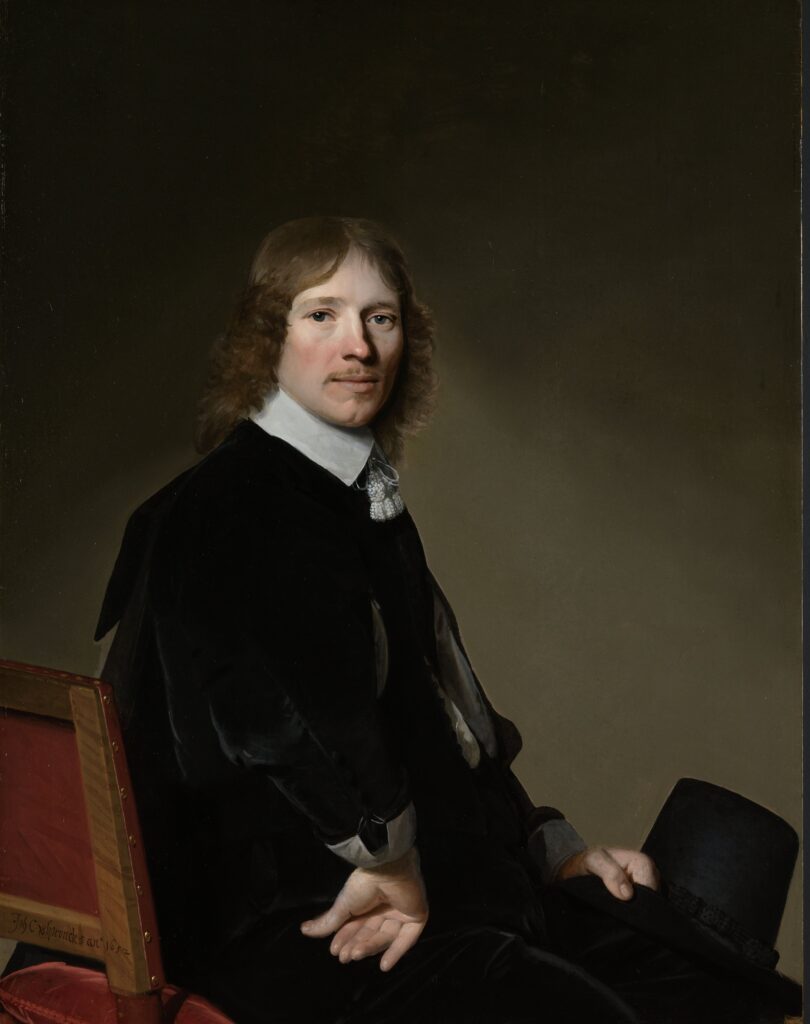 Verspronck's 1652 Portrait of Eduard Wallis (fig. 3) is on a panel, and shows this former citizen of Haarlem. He sits at a 45-degree angle opposite to the chair, with his right arm akimbo, and his left hand holding his hat on his left leg. He wears a black costume and white-collar; flat, with a tassel. The ground can be seen in his costuming, and it is a light gray-brown. It's clear to discern the second silhouette that surrounds his entire contour, that of the chair, and the edge of his hat. It's composed by a second background layer, which Verspronck worked into his first background layer, as is also evident where his hair meets his chin–much in the same way the neck of the man in the Taft portrait seems to dissolve into its background. One strand of hair on the edge of his right cheek, also defines the contour of that cheek. In his face, gray deadcoloring, or undercoloring, is evident–this light gray assists in modeling his face. His right hands seem to be painted on top of his costume, consistent with recent research findings, and it is folded onto itself, with his thumb pointing backward, behind him. On his left hand only his thumb and index finger are visible. His eyes are staid as he stares toward the viewer, and not his wife. His hair is parted down the middle, as is the man's in Hals' portrait. Though unlike that portrait by Hals, in this man's costuming there are few broad black brushstrokes, discernible in his pants and right sleeve, used to denote that his right elbow is akimbo.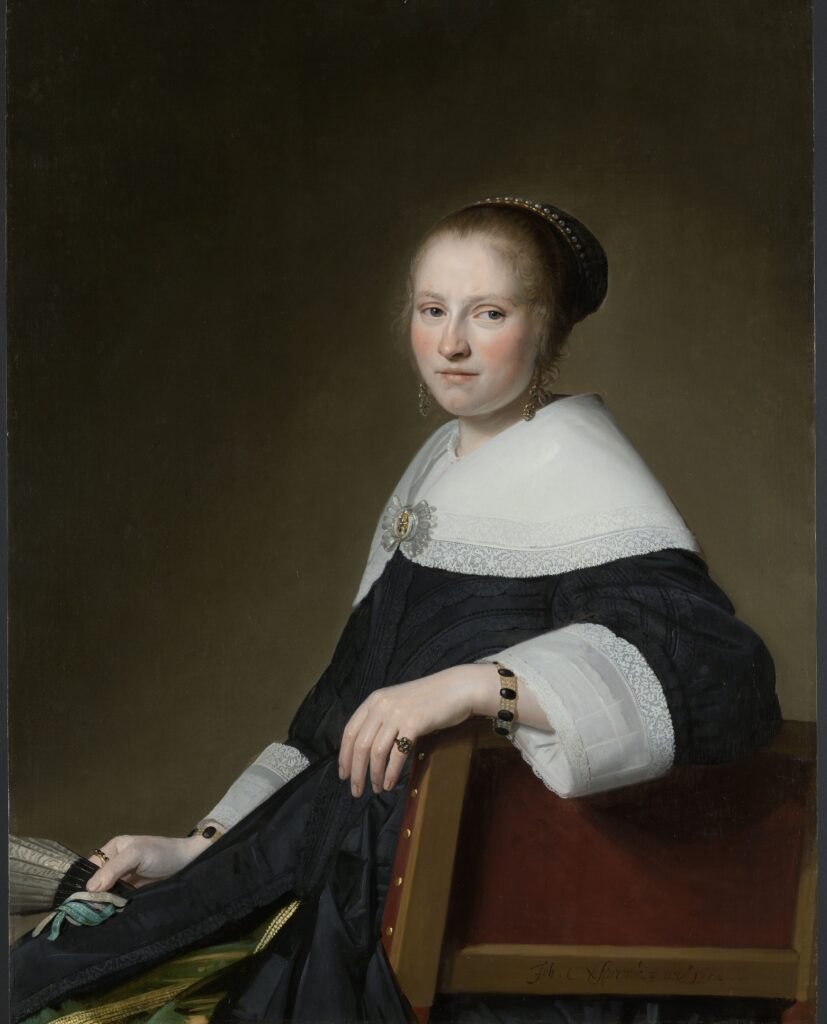 That portrait's pendant is the 1652 Portrait of Maria van Strijp (fig. 4), which is also on a panel, and shows this former citizen of Haarlem. Maria is seated at a chair, with its back toward the viewer; it's finished in the same red fabric as the chair her husband sits on, and her left arm is draped over its top edge. She stares steadily into the distance, looking out toward the viewer's right. She wears a ring on her left pinky, and on her right index finger which, together with her thumb, clasps her folded fan. Through the fan's base the modeling of her hands is visible, due to the sgraffito technique Verspronck used, which entailed scratching through black paint to expose the paint beneath, of her hand:
'Although incisions in wet paint can be found in seventeenth century paintings, for example in works by Rembrandt and his circle, and also in some paintings by Frans Hals, Verspronck's are nevertheless very specific to him. With their thin, sometimes double lines they echo his loose, succinct underdrawings. Using incision to indicate the positions and shape of embellishments in the parts that were partially painted over later is also highly unusual, if not unique.'45
Further research has revealed that Verspronck painted hands directly over costuming, defining them last.46 A 'second' silhouette, similar to that of Eduard's, emphasizes the contour of Maria. She wears a black costume with a flat, white collar, fastened by a brooch. Grays, yellows, and greens compose her dress, which is bounded by bold black brushstrokes to create the illusion of folds and recesses, similar to the woman by Hals. Gray modeling underlayers are evident in the neck and face.47 Her costume is finished in an exquisitely detailed, lace-like patterning, which runs vertically in parallel sets down along her bodice. The same detailing is present on her billowing three-quarter length sleeves, the left of which causes a shadow on the chair. Curls of hair fall onto her cheeks, seeming to intertwine with her earrings. Bold black brushstrokes, right of her left earring, finishes her contour's collar, completing her neck. Without that detail, her neck wouldn't melt into the background, and detract from the portrait's naturalism. 'In every way, Verspronck's demure elegance contrasts with Hals' rough and bold execution.'48
Contrasting Methods of Painting
While it may seem sufficient to conclude that Hals painted loosely and Verspronck not, perhaps a better definition of these painters is that Verspronck is a naturalist, Hals not. Yet Hals sometimes surprises with the naturalism of his figures, as is evidenced in his c. 1648-1650 Portrait of Isabella Coymans, and its pendant, Portrait of Stephanus Geeraerdts, which were commissioned. And Hals seems to have employed more naturalistic features in the figural modeling of his commissioned portraits, as the Taft pendants, as opposed to those not.49 He thus oscillated between naturalism, most often in faces and hands, but reserved his dashing, hatched brushwork for his sitters' clothing and accessories, to suggest details. Unlike Verspronck's pendants, a gradated background, diagonally from dark to light, is not present in Hals'. In the pendants of Verspronck, the backgrounds have a 'remarkable tension between light and dark. The brown background directly to the right of the heads and the upper parts of the body of the figures is rather light, and from there on, toward the edges of the painting, becomes darker, until the tone is reached that has been used for the other parts of the background.'50 This is achieved through his application of a second background above the painting's ground and background, creating a gradient. Verspronck set initial figural contours, and stayed within their bounds, often changing only hair. Verspronck also reinforced his contours by creating a second figural silhouette, which surrounds each figure, bringing emphasis to his figural contours, as in his pendants here, by way of painting of a second background layer above the original. 'In spite of the fact that the differences in tone between clothing and background are often not very strong, the sitters of Verspronck are very clearly set off from the background and their silhouettes play an important role in the paintings.'51 Oppositely, Hals' contours seem to mesh into his figures to create their non-static immediacy, in turn creating an illusion of movement in his works, unlike the static figures present in the portraiture of Verspronck.
The Rijksmuseum undertook research in 2014 on the Verspronck pendants, together with other works by him, which concluded, 'The lack of substantial new findings does appear to be a confirmation of the artist's technique,52 as published: consistent, founded strongly on tradition, experienced and always well planned, from the choice of support and format, to a painting finished in meticulous detail. Verspronck does not appear to have made any innovations or significant changes to his technique during his career.'53 That contrasts with Hals's work, which oscillated in consistency, becoming looser with time. Hals–unlike Verspronck's consistent and refined formulaic painting method–thus innovated his painting technique, through his experimentation. Whereas Verspronck's experimentation is found in his invisible underdrawings, thought to be made from life.54 The Rijksmuseum, concluding their 2014 Verspronck research, noted of his portraits:
'These aspects contribute to the impression of restraint and punctiliousness creating the tranquil atmosphere [his] portraits often invoke, often referred to in the literature. Some authors conclude that Verspronck's appear as dull and old-fashioned, and the style and the sketchier and more expressive painting of his contemporary Hals reinforces this idea. It is perhaps the contrast between the spontaneity and expressiveness of his underdrawing– unknown to the non-expert viewer–and the modesty and refinement of the finished paintings that most fascinates the researchers… His individuality has to be found in the details, where it is found in abundance.'55
As opposed to Hals, whose ingenuity can be readily seen throughout his portraiture–as within his figures, and in their costuming, but also in his backgrounds, which can contain drapery, ivy, and other greenery, often in gardens, as well as interiors–Verspronck's details are truly minute, and must be observed in person to be appreciated; as the sgraffito in Maria van Strijp's fan, and the delicate patterning present within her lace. Upon careful consideration, is it clear that Verspronck's figures, while not imbued with the illusions of vibrancy and movement, as are Hals', are imbued with the illusion of naturalism, through detailing. Even though Hals does achieve naturalism in some portions of his pendants, as in the faces of his Taft figures (figs. 1, 2), it is nowhere near that achieved by Verspronck. Therefore, while very much subjective as to if Verspronck or Hals is the more ingenuitive painter of these two, historiography reveals that Hals is the more readily attracted to, of the two, by art historians and public, due to his seductive use of rapidly executed forms. The reception of works by artists such as the Old Masters Hals and Verspronck, as has been revealed, is possible to be generated without awareness of a work's true conditional state: as within the 'seriously worn condition' of Hals' pendants, unknown to the non-connoisseur viewer; and within Verspronck's pendants, as 'non-expert viewers' remain unaware of their sub-paint surface brilliance, in the form of expressive underdrawings. That situation has lent a higher value to Hals' works, supported by the voluminous amounts of literature on him, compared to the minuscule amount on Verpronck.56 Hals is thus the currently favored of these two treasured Haarlem portraitists. And with only one exhibition to Verspronck's name, in 1979, it is anticipated that there will still be another. Until then, works such as these pendant portraits, by Frans Hals and Johannes Cornelisz Verspronck, can be received over time, and their receptions can be charted; yet caution must be exercised in doing so. As Old Master portraits are not always what they initially appear to be, which has a way of muddling the historiography of their receptions.